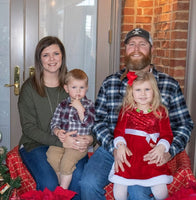 I'm glad you're here!
Hello! My name is Allie McDowell and I am the owner of McDowell Made. This business adventure started as a dream of mine when my husband and I made the decision for me to quit my full-time job and become a stay-at-home mom with our first baby. We had no idea how far God would take us! In the beginning, it allowed me to do crafts to sell locally and pour myself into something fun, but after much growth, it has become far more than that!
My goal has always been to provide affordable, cute clothing and accessories. This has all been a dream come true and answered prayer for me!
I hope you find just what you are looking for here and my family and I thank you for your support!